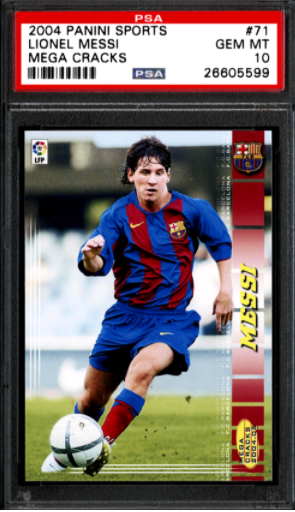 As the most popular sport in the world, with an estimated 3.5 billion fans worldwide, soccer is an emerging market when it comes to collectible cards.
From Pele to Lionel Messi, almost every player you could think of will have a couple of expensive options, but some are worth far more than others.
Stars like David Beckham fail to make the list, while one player, in particular, stands above the rest if you're looking at more recent options.
Here's everything you could possibly need to know about 10 of the most valuable soccer cards ever sold, including how and why they've managed to make the list.
Most Valuable Soccer Cards Sold (Ever)
Despite a couple of vintage options that we'll note below, it's clear that more recent cards are some of the most valuable overall.
That's likely due to the time it took for collectible soccer cards to become more popular worldwide, compared to more US-centric sports such as basketball or baseball (Michael Jordan played both).
Trending Articles: Justin Herbert Rookie Cards | Luka Doncic Rookie Cards | Trevor Lawrence Rookie Cards
There's also the array of rare parallels found with modern sets, which help to ramp up both the value and the interest.
As we're looking at the most valuable versions, we'd advise sticking with graded options to remove the possibility of picking up a counterfeit card. There's serious money at stake, especially with the first option to make the list.
1958 Pele Alfa Bolaget Soccer RC #635
A true icon in the sport, Pele is seen as the best player of his generation.
However, the Brazilian forward was unknown at the time of this RC being released, as it was issued during the 1958 World Cup in Sweden.
The colored profile picture shows a youthful Pele in a vintage blue-collared Brazil shirt, with his name found on a simple white tab at the bottom.
High PSA grades will easily sell for a significant five-figure fee, making it one of the most expensive soccer cards ever.
1958 Pele Monty Gum International Footballers RC
The second Pele option to make the list is also considered to be an RC. Featuring a dated illustration of the Brazilian superstar, it has the appearance of a playing card on the front.
Pele is the Ace of Spades, showing how quickly his reputation grew after the '58 World Cup. He's also featured on the 4 of Clubs, which has a red back.
1991 Zinedine Zidane Panini Foot ´92 RC #43
Zinedine Zidane is a maverick former Real Madrid and France captain, possibly best known for headbutting Italian midfielder Marco Materazzi in a World Cup final.
He's now the head coach at La Real, leading the team to a trio of Champions League victories. Both contribute to the value of his rookie card.
Zidane's '91 RC is one of the more important cards from the decade, with a PSA 8 copy recently selling for just over $22,000.
It features an image of Zidane with a full head of hair, scowling at the camera in his Cannes kit. The card has a solid yellow border, which makes it more difficult to find in higher grades due to chipping.
1995 Ronaldo Panini Voetbal 95 RC #80
No, not that Ronaldo. The original, R9 is possibly the best pure striker in the history of the game.
Before he became 'Fat Ronaldo', he was a phenom at PSV, where he's pictured in a great action shot.
His Panini Voetbal 95 has a shiny border and a unique cut, which is always going to make it more expensive than the norm.
It's a great investment piece, and it's likely to be coveted by anyone who was lucky enough to see him play at his peak.
2004 Lionell Messi Panini Mega Cracks RC #71
The current GOAT, Lionel Messi will be long remembered for his incredible talents.
The star player for possibly the best club team that the world has ever seen, he failed to replicate those heights with Argentina.
The 2004 Panini Mega Cracks is a great option, seen as Messi's definitive RC. It has a strong action shot of the player dribbling in his famous Barca colors, with the ball stuck to his feet.
With his retirement looming in the next decade, now could be the perfect time to get on the Messi hype train before prices rise even further.
2010 Lionel Messi Panini World Cup South Africa Premium #44
The second Messi card on the list is from the 2010 World Cup. As it's newer than the RC, it's way more affordable, despite a stunning design.
The chrome background is shaped like South Africa, who were hosting the WC that year, and Messi is pictured in his Argentina kit.
PSA 10 versions are fairly expensive in their own right, but it looks to be one of the best investment pieces to make the list.
2017 Kylian Mbappe Topps Chrome UEFA Champions League RC #41 (buy on eBay)
Kylian Mbappe is seen as the next big thing in football, exploding onto the scene with Monaco in the Champions League in 2016-17.
He was snapped up by PSG for a rumored €145 million-plus €35 million in add-ons, making him the most expensive teenager at the time.
This UCL branded card features Mbappe in an action shot, having dinked the ball which is also in view. The rare numbered parallels are where the true value is, especially with the best-graded versions.
Parallels: Base Refractor, Purple (/250), Blue (/150), Green (/99), Gold (/50), Orange (/25), Red (/10), SuperFractor (1/1)
2018 Kylian Mbappe National Treasures RC Soccer #39
We're sticking with the young French forward, and we're now looking at his 2008 National Treasures card.
The lack of a signature is one obvious setback, as the card instead focuses on a feature-length image of Mbappe in his international kit against a white and red background.
The numbered parallels are the most valuable overall, with the serial number being found at the front of the card.
It's clearly one for the future, but rare Mbappe cards are probably the best soccer investment pieces on the market right now.
Parallels: Bronze (/25), Gold (/10), Emerald (/5), Platinum (1/1)
2018 Kylian Mbappe Panini Prizm Soccer World Cup RC #80
The last Mbappe card to make the list is his 2018 Panini Prizm. It has a unique background design, with a lined image of the player in his World Cup kit.
France won the tournament that year, which adds additional value, and it's likely to increase in price in the future.
As with most modern Prizm releases, there are heaps of rare parallels to keep an eye out for.
Parallels: Silver, Hyper, Lazer, Mojo, Red Mosaic, Black/Gold Wave, Green/Orange Wave, Red/Blue Wave, Blue (/199), Red (/149), Light Blue Lazer (/125), Purple (/99), Orange (/65), Pink Lazer (/40), Green Crystals (/25), Camo (/20), Gold Lazer (/15), Gold (/10), Gold Power (/5), Blue Shimmer (/5), Black (1/1)
2019 Cristiano Ronaldo Panini Chronicles #CR7
The final card to make the list is from the 2019 Contenders Historic Ticket Autographs subset.
Featuring the legendary Cristiano Ronaldo in a classic Man Utd kit, the addition of a stickered auto at the bottom is enough to catch the eye of most collectors.
There is a duo of parallels, with the Cracked Ice version serial-numbered to just 23 copies.
Parallels: Cracked Ice (/23), Championship (1/1)